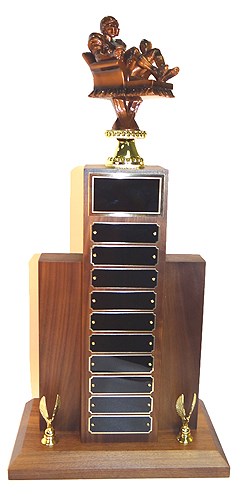 25" Solid Walnut Fantasy Football Anniversary Trophy.
Engraving included. Please add $15.00 for custom logo on small top plate.
Please fill our engraving information as follows:
LINE 1 - Small Top Plate - If logo please say LOGO and e-mail logo to sales@victoryawardsandtrophies.com
LINE 2 - first anniversary plate
LINE 3 - second anniversary plate, etc.
Refer to the
UPS map
using zip code 28403 for regular ground shipping days to your area.
***Please allow 3-5 business days to process plus shipping time***
If your order is needed in less time please call us at 1-800-249-5772
FFLT- 25" Tall Large Fantasy Football Trophy
Code: FF25
$299.00